Type 4/5/6 Coverall
Product Description
Soft and flexible high quality microporous film laminate offers excellent combination of protection and comfort.
● Coverall passed Type 4, Type 5, Type 6 tests.
● Coverall passed EN1073-2, EN1149, EN13688 tests.
● Coverall passed all tests in EN 14126 infectious agent standard.
● Nylon tape over the seams improves protection level and strength of the coverall.
● Self-adhesive zip flap increases tightness and protection property.

Garments suitable for Type 3 and 4 liquid chemical spray protection:
Type 3 & 4 garments are for protection against liquid sprays of hazardous chemicals.
The Types are defined by the "finished garment Type Tests"; tests on the whole garment which replicate the different types of liquid spray that might be found in real world applications. Both involve a test subject entering a cabin and being sprayed with a specific liquid in a specific format, emerging afterwards and with a defined method of identifying penetration of the liquid inside the garment with a pass or fail assessment. Whilst the liquid used is the same (lowered surface tension and died so any penetration is apparent) the difference in the type of spray is what defines each Type.
Type 3: a single jet spray applying considerable pressure and directed at possible weak points in the garment (such as seams and openings).
Type 4: a "shower-like" spray from four nozzles at the side of the cabin. Little pressure is applied from the spray on the garment but the garment is soaked over a one minute duration.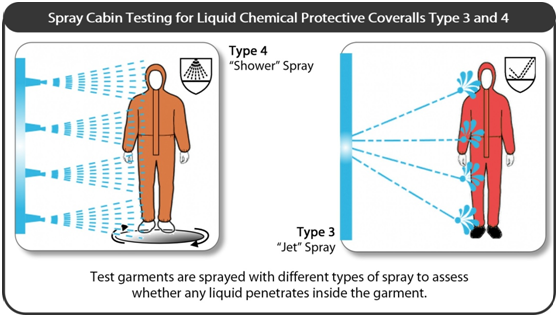 What is Type 5 & 6 protection? Defined by CE Standards: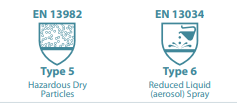 Resistance to penetration by infectious agents:

EN 14126 - is the standard for protective clothing against infectious agents and biological hazards. It is important for clothing worn by medical staff in projects like the Ebola relief effort in West Africa in 2014-15. The test includes 4 tests against different types of contaminant.

Product

Tests Passed

Type 4, 5, 6 Coverall

EN ISO 12947-2

EN ISO 7854

EN ISO 9073-4

EN ISO 13934-1

EN 863

EN ISO 13935-2

Type 4 tests: Shower Spray

Type 5 tests: Hazardous Dry Particles

Type 6 tests: Reduced Liquid (aerosol) Spray

EN ISO 6529

EN ISO 6530

EN 14126

ISO 16603+ ISO16604

EN ISO 22610

ISO/DIS 22611

EN ISO 22612

EN1149

EN13688
Style Design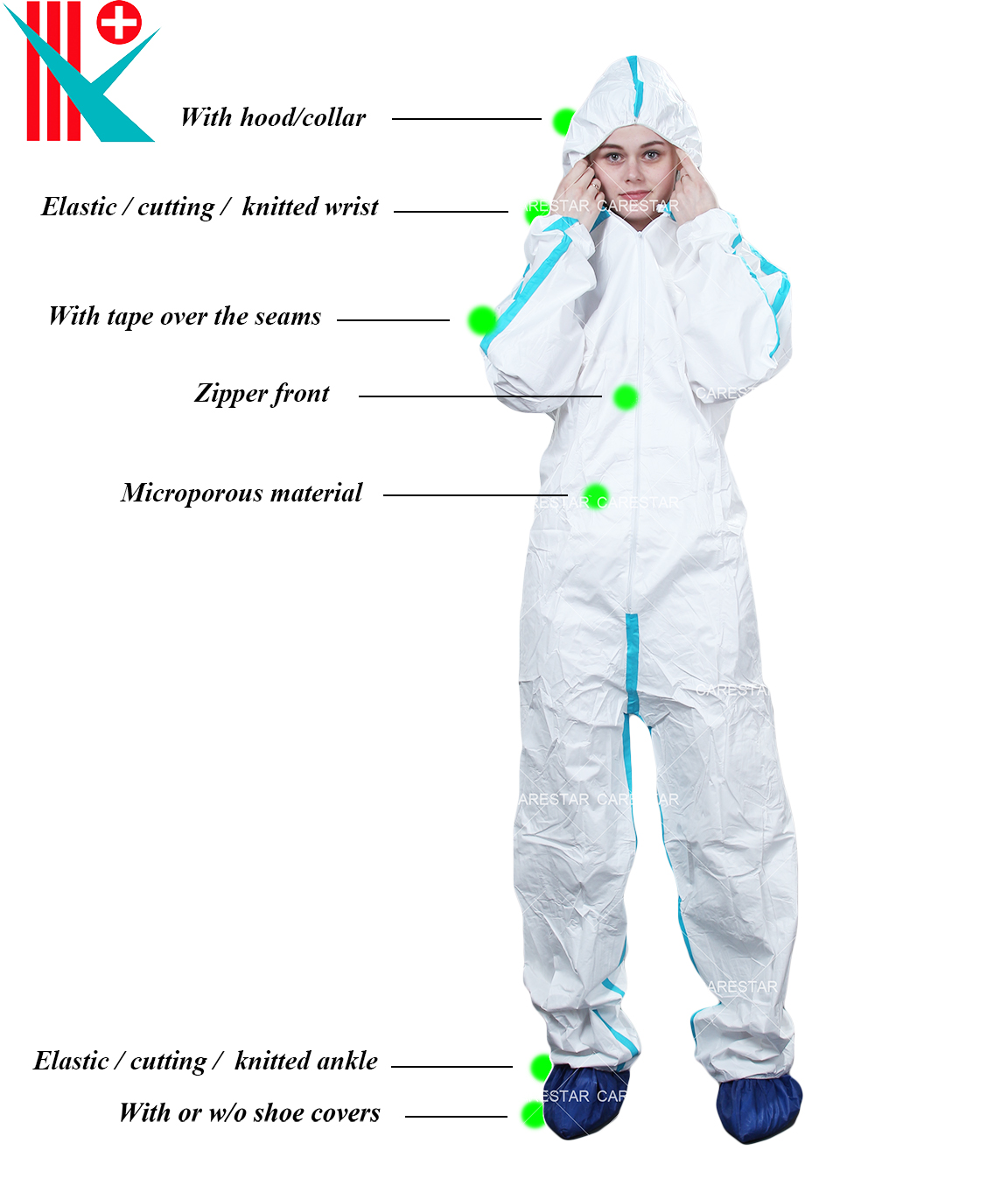 Detailed Pictures